Crucifer is a death metal band originating from Fredericksburg Virginia. The 3 piece band formed in 1990 by members Stevie Snyder-bass, Brian Ronquest-guitar and Jeff Riddle-vocals and drums. The bands lineup remains the same today. Crucifers debut live performance was the opening slot for Believer at Street Cry, located in Fredericksburg VA on February 9th, 1991. Their show was incredibly well received and started Crucifers lifelong following in their hometown.
That same year Crucifer would find themselves in the studio recording what would become their 'Beyond The Realms' 3 song cassette demo. It was this raw recording and tape trading that gained the interest of Wild Rags Records from California. 'Beyond The Realms' would ultimately be licensed and distributed by Wild Rags Records. The demo quickly sold out and fetches a high price by collectors today. After the buzz created by the demo, Crucifer would write and record what would become their first official full length studio release.
In 1991 Crucifer released their most brutal album to date entitled 'Festival Of Death' on Wild Rags Records. The album would go on to sell thousands of copies on CD and cassette by mail order and live shows. The band would start performing regularly with local acts as well as national recording artists. Crucifer would frequent Colonial Theatre in Fredericksburg, Newgate Prison in Richmond,  Stingrays in Woodbridge, Zaxxs in Springfield, Tiki Falas in Dumfries and Benders Arena in Manassas VA. Crucifer would do additional gigs with death metal bands in Maryland. 'Festival Of Death' was a big underground success for the band.
In 1992 Crucifer released their first 7" vinyl record on Wild Rags Records entitled 'Pray For The Dead'. It was available in black or blue vinyl and limited to only 1,000 copies. With product selling well, the band started working on their 2nd full length album. They went into Salamone's Recording Studio in Fredericksburg VA to record what would become their highest selling album. In 1993, Crucifer released 'Pictures of Heaven' on Wild Rags Records on CD and cassette. The album was a huge success and well received by the worldwide metal community and underground fanzines. Crucifer would become one of the top selling bands for Wild Rags Records with the likes of Internal Bleeding, Impetigo and Nuclear Death. Richard C. was always a big supporter of the band and Crucifer will always be grateful for their relationship.
On July 31st 1993, Crucifer played the 7th annual Milwaukee Metal Music Mania event with Cannibal Corpse, Testament, Clutch, Suffocation, Phantasm, Morta Skuld, Broken Hope, Flotsam and Jetsam, Body Count and many more. The festival was held at The Rave in Milwaukee Wisconsin and gained Crucifer many additional fans. In 1994 Crucifer released a 3 song EP on cassette and CD entitled 'Separation' on Wild Rags Records. The 3 songs were well written, more polished, and remain favorites today. The band would continue playing live shows and writing material for a proposed 3rd full length release. However, the band would find itself withdrawing from each other in pursuit of other interests. On November 1st 1997, the band would perform it's last show at the Colonial Theatre in Fredericksburg VA with good friends Transgression opening the show.
Between 1997-1999 Crucifer would make some attempts at finishing the 11 songs that were composed for their 3rd full length release. This would prove to be unsuccessful with only 6 being regrettably released in 1999. The songs were still very much in a demo/working stage, and certainly far from complete. Crucifer highly regrets the demos release and doesn't consider it as part of their discography.
In 2016 Crucifer was approached by Dark Blasphemies Records in Spain to release their back catalog on a  2 CD set. It would include songs from their albums, EP, 7" and demo. It also included 3 songs from the 'Beyond The Realms' recording sessions from 1990 that never made it on the demo. The CD would be called "Carrier Of The Cross" and would contain 25 songs and a 16 page colored booklet with lyrics, photos and the history of the band. 500 copies were made and has since sold out.
In 2019 Crucifer would start polishing the 11 songs written before 1996. This would be the story on and off for the next 4 years. In 2021 Jeff Riddle would re-record all the drum tracks and most of the vocals. The project came to a halt again in early 2022.
In December of 2022, Crucifer self released 'Pictures Of Heaven' and 'Festival Of Death' on CD that included bonus tracks from 'Separation' and 'Beyond The Realms'. These were very limited, hand numbered, and contained a set of high gloss decals. Around this same time, Crucifer was contacted by Pathologically Explicit Recordings in Indonesia, with plans to release 30th anniversary editions of 'Pictures Of Heaven' and 'Festival Of Death' on vinyl for the first time in the bands history. Both vinyl albums will be released in late August/September of 2023 and will be limited pressings with 'POH' on black vinyl and 'FOD" on red.
In February 2023, Crucifer picked up where they left off on the 11 songs and mixed them to a fairly finished state. Brian Ronquest plans to add some final guitar tracks and solos and then the album will be sent off for final mixing and mastering. The new 11 song Crucifer album that has spanned 27 years will finally see the light of day late 2023. The new album will be available worldwide on vinyl, cassette, CD and digital formats. Crucifer is forever grateful for the 32 years of continued support and interest in the band and is excited to be able to release new material soon!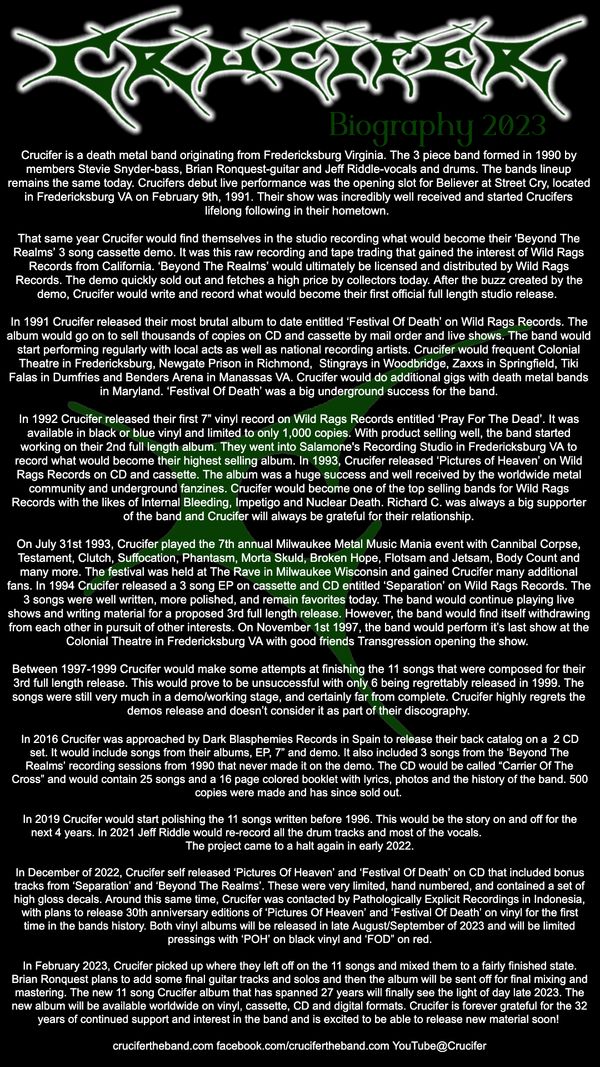 Thanks for voting!
What is your favorite Crucifer album?
Beyond the Realms

0

Festival of Death

3

Pictures of Heaven

8

Separation

1

Carrier of the Cross

2

14 responses
Share